All Sticky Notes Settings
customize sticky notes as you like
Sticky notes can be customized in many different ways depending on your needs. You can select default settings for newly created notes and change settings for already created sticky notes.
Program Settings
Notes Settings
Program Settings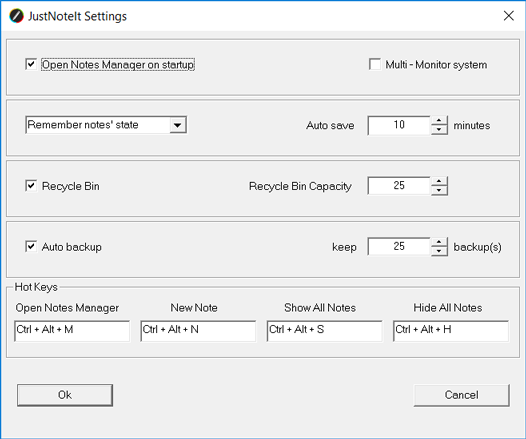 Open Notes Manager - check this option if you want to show Notes Manager on app startup.
If you have several monitors, and want the app support all of them, then check the option 'Multi-Monitor system'.
After the program startup you could show or hide desktop notes in three ways:
1. Remember notes' state - the program remembers what notes were shown when the program was closed last time.
2. Show all notes - all existing desktop notes will be shown
3. Hide all notes - no notes will be shown
Recycle Bin - if you select this option, deleted sticky notes will be moved to the program Recycle Bin.
Recycle Bin Capacity - you can select the maximum number of deleted notes to keep in it.
Auto save - set the time interval for auto saving your notes. When selected, JustNoteIt will save your notes at the specified interval, that protects your notes in case of computer failure.
Auto backup - when selected, the app automatically creates notes backups when you exit the app, restart or turn off your PC.
'keep ... backups' - set the maximum number of notes backups to save, if the number of backups exceed the maximum number, the older backups will be deleted.
Sticky Notes Settings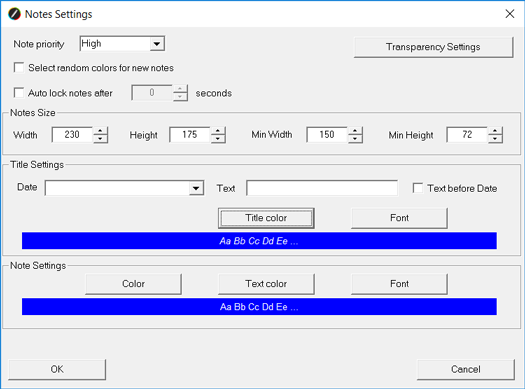 In this section you can customize all aspects of sticky notes appearance. These settings are applied to newly created notes only.
Note priority:
High Priority - notes will be on the top of other windows.
Regular Priority - notes will behave as usual windows.
Low Priority - notes will be on your desktop, below all windows.
'Select random colors for new notes' - if this option is not checked, colors selected in the Title Settings and Notes Settings sections are used.
Transparency - choose the percentage level of the note transparency. Note: when a note is active(in focus), it has zero transparency.
Title Settings:
The note title area, by default, contains the date and time of creation. In the Title settings you can pre-define the date and time format, or disable inserting date and time.
Date - choose the date format you want to use.
Choose this option if you want to insert the time and date on the top of the sticky notes whenever a new note is created.
To change the way dates and times are displayed, select the date or time format from the drop-down menu.
If you do not need to insert the data and time, select an empty string. Changes apply to new notes (not to the notes that you have already created).
Text - enter the text you want to add to a note title, if not leave it empty.